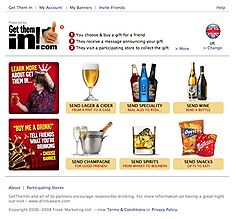 Still in doubt with what to give your online buddies this holiday season? Christmas day is over, but it's not too late to send those special someones something before the year ends. You could perhaps send them an email or an e-card, but having something tangible is definitely better. You can order books, flowers or pretty much anything online. But for beer buddies, how about something with a little bit more alcohol in it?
Get Them In! lets you do just that.
GetThemIn is a Facebook application (http://apps.facebook.com/getthemin) that allows people to buy each other real beer, wine or other alcoholic drinks for the first time ever – perfect for sorting out those last minute Christmas present dilemmas or getting the Christmas drinks in with your mates without actually being there.

People can choose from a variety of drinks and other real-world gifts and send them to their friends using Facebook platform and PayPal. Recipients receive a personalised message from the sender via SMS, email and Facebook, with the option to keep it virtual or redeem their gift as a voucher that can then be used in one of hundreds of First Quench outlets across the UK (including Threshers, The Local, Wine Rack and Haddows).
The service features several popular brands, including Fosters, Cobra, Heineken, Tuborg, San Miguel, Bulmers Cider, Newcastle Brown, WKD Blue, Old Peculier, Blossom Hill, Hardy's, Taittinger, Radcliffe's D.B., Teacher's, Cockburn's S.R., Harvey's Bristol Cream and Courvoisier V.S.
Aside from cheering up your buddies, you also help a worthy cause. GetThemIn has been officially granted the DrinkAware trust trademark license and will be donating a percentage of its profits to COUNTED4, which counsels and promotes the health and well-being of anyone affected by substance misuse.
The drinks can be redeemed in about 1,500 participating wineries. But the deal is valid only in the UK, so folks from elsewhere would have to toast to a virtual drink!
[via WebItPR]
Originally posted on December 30, 2008 @ 12:53 pm